When I was a little girl, I think every girl in America wanted a Barbie doll, every girl except me. No, I wanted
M
idge, Barbie's best friend.
I'm not sure why, maybe
M
idge, with her curly
Red
hair and freckles seemed more down to Earth, a little more tomboyish like me. When I was nine years old, my parents gave me my
M
idge as one of my Christmas gift.
(Here I am, making the goofy face, holding my Midge doll)
From that point on, I saved my allowance every week to satisfy "
M
idge's" desire for the latest fashions. By the time Christmas rolled around again,
M
idge needed a place for her growing wardrobe and so my parents gave me a trunk for all of her clothes.
(You can see Midge's new trunk right over my left shoulder)
After that, I added Allan,
M
idge's boyfriend, Skooter
M
idge's little sister and of course their clothes and trunks to hold their clothes too!
When I was in fifth grade, I had a new best friend. She was an only child and had everything that
M
attel produced in the Barbie line. She lived just a few blocks from me so everyday I would carry
M
idge, Allan and Skooter, along with all of their clothes and their trunks over to her house for a play date.
At the end of the day I would have to carry everything home. I eventually got tired of carrying everything back and forth and decided to leave everything at my friends house. This worked out great for the next two years but then as the end of sixth grade drew near, and the excitement of moving on to Junior High loomed large, my best friend and I began to grow apart. At some point I left all of my dolls at her house and never went back. At the time I probably didn't care, thinking what did I need stupid dolls for. By the time I realized what I had done, it was too late. My best friends Mom had boxed everything up and donated it to the thrift store.
Fast forward thirty years to 1998, my girls were in the basement at my Sister's house playing with some items that had been brought over from my Parents house when they passed away. I went downstairs to check on them and couldn't believe my eyes. They were playing with MY
M
idge doll. I questioned my Sister but she had no idea how
M
idge had made her way from my friends house, to my Parent's. Oh well, it really didn't matter, I had her back after all these years. I instructed my girls to put everything, including
M
idge back in the box before we returned to South Carolina. Unfortunately, when we got back to South Carolina and I unpacked, I discovered
M
idge was no where to be found. I asked my Sister to look for her but she never found her and we assumed she had been accidentally thrown out with some trash. Once again, I thought
M
idge was lost forever.
Now fast forward another thirteen years to this past Christmas. My sister sent me a long, skinny gift bag with a tag that simply said "something from the past". Imagine my surprise and delight when I opened it Christmas morning to find MY
M
idge!
At first I thought my sister was pulling a trick and surely she must have bought this
M
idge at an antique store. But she assured me that yes, it was MY
M
idge, she found her in the back of a drawer in an old filing cabinet in her basement. How she got there is a mystery but I finally have her back and I'm determined she won't disappear again!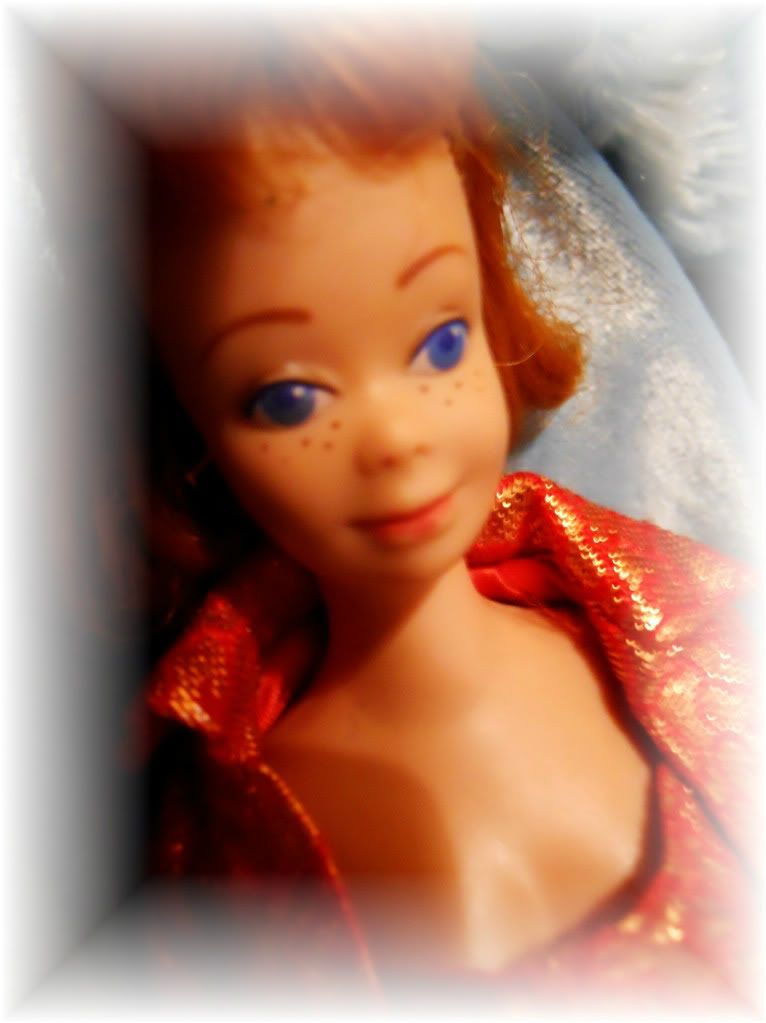 Thanks for stopping by today! xxoo Nan
I'm linking this post to:
REDnesday
at
It's a Very Cherry World
Vintage Thingie Thursday
at
Colorado Lady
Alphabe Thursday
for the letter
M
at
Jenny Matlocks
(Footnote: the pictures of Midge, Allan and Skooter in their boxes are courtesy of
Pinterest
. You can follow this

LINK

to see more cool stuff from my childhood)