Happy
Pink Saturday
Everyone!
First I have to tell you, I will not be able to comment on anyone's blogs today but I will try and get caught up and visit you next week!
Pleas stop by
How Sweet the Sound
and say HI to Beverly, our host every
PINK SATURDAY!
When we built our home Seventeen years ago, the floor plan called for a formal Dining Room right off the Kitchen. Our home was not going to be very large and I could not justify having a room that would only be used a few times a year. Instead, I decided to use it as a playroom for my girls who were only four and six when we started construction. It remained a playroom until my girls reached the age when they liked hanging out in their own rooms instead. Then the room was transformed again in to my office/craft room/computer room/TV room. During both of these phases this room was always a mess and had the ugliest vinyl on the floors. Two and a half years ago when my girls left for College, I decided it was finally time to transform it in to a pleasant Sunroom. First we painted the walls a nice sunny yellow. Then we ripped up the vinyl and replaced it with white ceramic tile. I had a very small budget for decorating and furnishing so I decided the two "must haves" were a nice Sissal rug and an armoire for the computer. I had this cute little wicker table that belonged to my mother and decided it would be perfect for the room with a little TLC!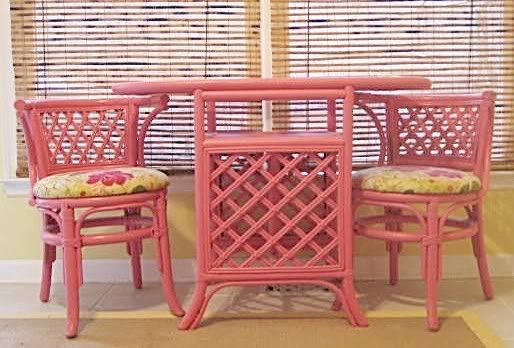 If you want to see the "before" and "after" shots read
THIS POST!
With the exception of this little table and chairs, I had no idea what I was going to do for seating! Then one day I went to visit a friend who just happens to volunteer at the Habitat for Humanity resale store. I walked in her family room and there was THE MOST PERFECT
PINK
couch! Of course I oohed and aaahed over it and she told me she bought it at the HFH store. I told her if she
ever
saw anything like it come into the store again to call me immediately. A few days passed and I got a call from my friend and here's what I heard on the other end of the line: "hey, remember that
PINK
couch, well, we decided we don't need it, do you want it?" Of course I almost fell off my chair! OF COURSE I DO!!! And here's the best part, she wouldn't take a dime for it! So here is a pic of my new Sunroom with my new
PINK
couch!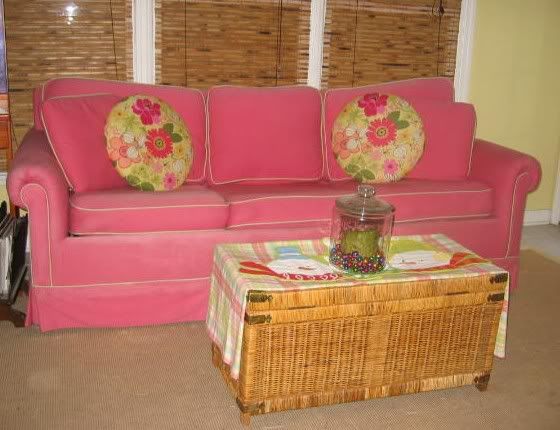 And this is a basket I made to hang on the wall.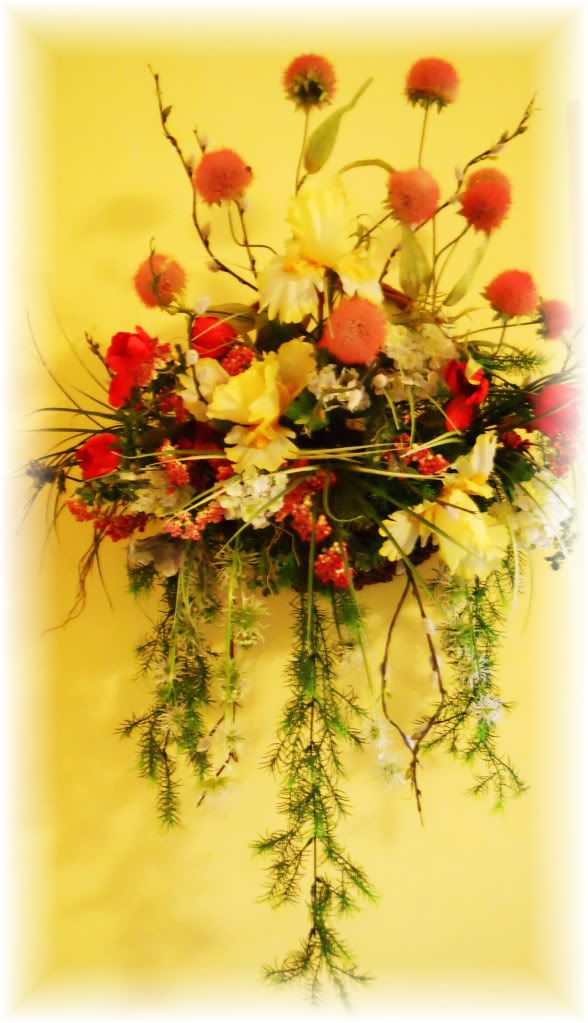 I hope all of you have a wonderful weekend and a Happy and Safe Labor Day! xxoo
Nan